BLOODHOUND PUPPIES AND DOGS
FAST FACTS
Nickname: Hubert Hound, Sleuth Hound
Breed Group: Hound
Height: 23-27 inches
Weight: 80-110 lbs
Life Span: 10-12 years
BLOODHOUND INFORMATION
BLOODHOUND BASICS
WHERE ARE BLOODHOUNDS FROM?
The St. Hubert Hounds, the forerunners of the contemporary Bloodhound, were raised in the Middle Ages at the St. Hubert Monastery in Belgium and transported to Britain by the Normans in the 1000s. They have been utilized in everything from hunting to law enforcement because of their extraordinary ability to trace smell.
HOW MANY TYPES OF BLOODHOUNDS ARE THERE?
Apart from the colour variation, there is only one type of Bloodhound.
WHICH BREEDS MIX WITH BLOODHOUNDS?
Labloodhound (Labrador Retriever + Bloodhound)
Bloodahouli (Bloodhound + Catahoula)
Bloodhound Beagle (Bloodhound + Beagle)
Doberman Bloodhound (Doberman + Bloodhound)
BLOODHOUND LIFESPAN
Bloodhounds have a lifespan of around 10-12 years.
BLOODHOUND SIZE (HEIGHT & WEIGHT)
Extra-large canines and bloodhounds often weigh 80–110 lbs. and measure between 23–27 inches tall.
BLOODHOUND APPEARANCE
WHAT COLORS DO BLOODHOUNDS COME IN?
Bloodhounds are usually black and tan, liver and tan, and red.
HOW MUCH DO BLOODHOUNDS SHED?
Bloodhounds are moderate shedders — nothing that regular brushing can't soothe!
DO YOU NEED TO GROOM A BLOODHOUND?
A Bloodhound is simple to groom. However, they should be regularly brushed and bathed because of their short coats. Additionally, be prepared for more slobber than usual.
BLOODHOUND TEMPERAMENT, PERSONALITY & TRAINING
HOW MUCH DO BLOODHOUNDS BARK?
Bloodhounds enjoy the sound of their voices, but rather than a bark, they have a distinctive sing-song bay. With the proper training and exercise, you can get any dog to stop barking as often.
ARE BLOODHOUNDS GOOD WITH KIDS?
Bloodhounds are friendly and energetic, making them excellent companions for children. They do, however, frequently lack self-awareness. Thus it is essential to match them with older children and socialize them when they are young.
As with any breed, it is advised that your youngster always is under adult supervision when interacting with your Bloodhound to keep everyone safe.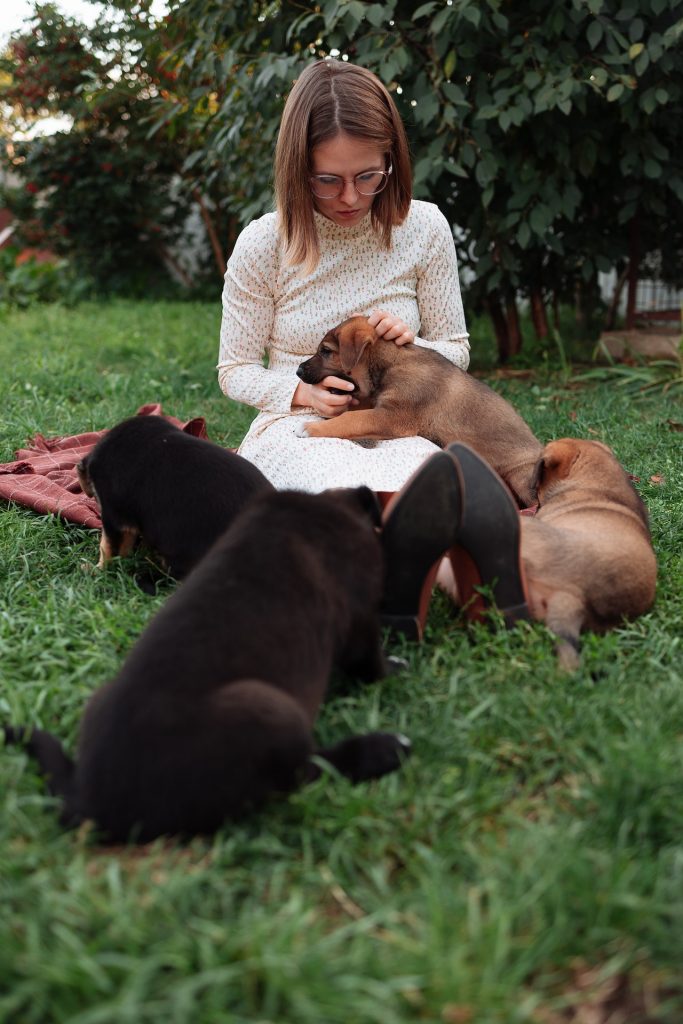 ARE BLOODHOUNDS GOOD FAMILY DOGS?
The Bloodhound is a typical kind and laid-back breed that enjoys being outside and needs plenty of exercises. Bloodhounds will follow a scent almost anywhere, occasionally clumsily walking through fences and walls. A fence must completely enclose the yard of a Bloodhound's family.
ARE BLOODHOUNDS GOOD WITH CATS?
Although some bloodhounds may like chasing after cats, bloodhounds generally get along well with cats. Of course, each dog (and cat) has unique preferences and temperaments. Still, you may be very sure that your Bloodhound and your cat should get along well if appropriately acclimated to each other or introduced at a young age.
ARE BLOODHOUNDS EASY TO TRAIN?
Bloodhounds learn rapidly, but they need a patient instructor sympathetic to their sensitive nature as a breed.
BLOODHOUND HEALTH
DO BLOODHOUNDS HAVE A LOT OF HEALTH PROBLEMS?
Gastric torsion is the leading cause of mortality in Bloodhounds since it affects them more often than most other breeds.
WHAT DISEASES ARE BLOODHOUNDS PRONE TO?
Hip or Elbow Dysplasia: Hip and elbow dysplasia are two of dogs' most prevalent skeletal disorders. Both conditions cause abnormal growth or misshapen elbow or hip joints and are similar diseases. The joints and sockets can't effectively connect because of the irregular form, so they rub and grind instead of moving quickly. Although joint instability is the primary symptom of hip dysplasia, elbow dysplasia frequently results in bone or cartilage fragments coming free and irritating the joint tissues. Dysplasia-related rubbing can lead to several problems, including discomfort, lameness, and secondary osteoarthritis. If discovered prior to the beginning of arthritis, surgery can be performed to repair the joint. If you are rescuing a Bloodhound, have him examined by a veterinarian to see whether he has dysplasia or is susceptible to developing it. This will help you determine what kinds of activities and exercises he can endure.
Patellar luxation: Patellar luxation, sometimes called slipping kneecaps, is a prevalent issue in many dog breeds. The knee joint slides in and out of position due to minor irregularities. Pain and sporadic lameness may result from this. Surgical intervention is an option for severe instances, although many dogs recover without it.
Hypothyroidism: A thyroid condition causes poor hormone production, leading to obesity, low energy, and brittle hair.
Eye problems: Entropion, a genetic defect where one or both eyelids are inverted or roll inward and rub against the surface of the eye; ectropion, a condition where the eyelid rolls outward, dry eye, and progressive retinal atrophy (PRA), a progressive degenerative disease affecting the retina that eventually results in blindness, are some eye conditions that could affect the Bloodhound.
Others: Bloodhounds are more prone to ear infections and mites due to the lack of air circulation in their long, drooping ears. Owners must devote a lot of time to their long ears. Due to their many skin folds, this breed is also prone to skin problems and gastric dilatation-volvulus, a rapid, excruciating, and sometimes fatal swelling and twisting of the belly.
PURCHASING VS ADOPTING A BLOODHOUND
HOW MUCH DOES A BLOODHOUND COST?
Adopting a Bloodhound is far less expensive than purchasing one from a breeder. To cover the costs of caring for the dog before adoption, a Bloodhound adoption costs about $300. In comparison, buying a Bloodhound from a breeder may be unaffordable. The price range for them often ranges from $800 to $2,000.
WHERE CAN I ADOPT A BLOODHOUND
It would be simplest to adopt a Bloodhound from a rescue specializing in them.
BLOODHOUND SHELTERS AND RESCUES
Some organizations specialize in finding perfect homes for Bloodhound puppies, including animal shelters and rescues.
WHERE CAN I FIND A BLOODHOUND BREEDER?
Before purchasing a puppy from a breeder, we advise you to rescue a Bloodhound (or any other dog). In need of homes are the millions of purebred dogs who are homeless around the nation. In addition, the adopter and the adopted Bloodhound may experience significant life changes due to the adoption.
Getting a puppy from a reputed breeder is safer if you're still unsure and want to buy a Bloodhound from a breeder. When working with a breeder, be sure that the breeder you're buying from genetically tests their animals. You should also double-check the puppy's health records. Finally, ensure the breeder will return any animals they sell if they cannot keep them in their home for whatever reason. Confirm that they are dedicated to finding those animals new homes if necessary.